Seminars are for your education. They do not serve to beast the students all over the dojo floor, but are instead there so that you can learn, with like-minded individuals, the subject matter on offer. No affiliation or particular level of experience is necessary, just an open mind and willing to learn.


Saturday 19th March Britannia Hero's and Diversity Martial ArBritannia Hero's and Diversity Martial Arts Association Seminar Basingstoke charity Seminar Lindsey and Bryan Andrews.,John Burke Tong Liu, Chris Bird ,Kevin Fitzgerald and Guest Instructors
Sunday April 29th 4th Annual Charity Karate Camp, Rickmansworth.
Saturday 6th May - Bunkai workshop at the UK Martial Arts Show, The Dome, Doncaster.

Sunday 14th May - Grappling Workshop in Essex hosted by New Era Karate. Please contact Sensei Brian Salisbury for details.

Tuesday 30th and Wednesday 31st May - Hanshi Patrick McCarthy 9th Dan teaching tegumi renzokugeiko in Newton Abbot, Devon. 6pm start.
SOLD OUT

Friday 2nd June-Sunday 4th June The South-West Karate Experience at Perran Sands, Cornwall, with Anthony Blades kyoshi, John Burke renshi.
Saturday 8th July - Sunday 9th July - Bunkai Weekend, with John Burke renshi, Newton Abbot, Devon. 10am-3pm each day. £60 per person. Please call 01626 360999 or email info@bunkai.co.uk to reserve your place.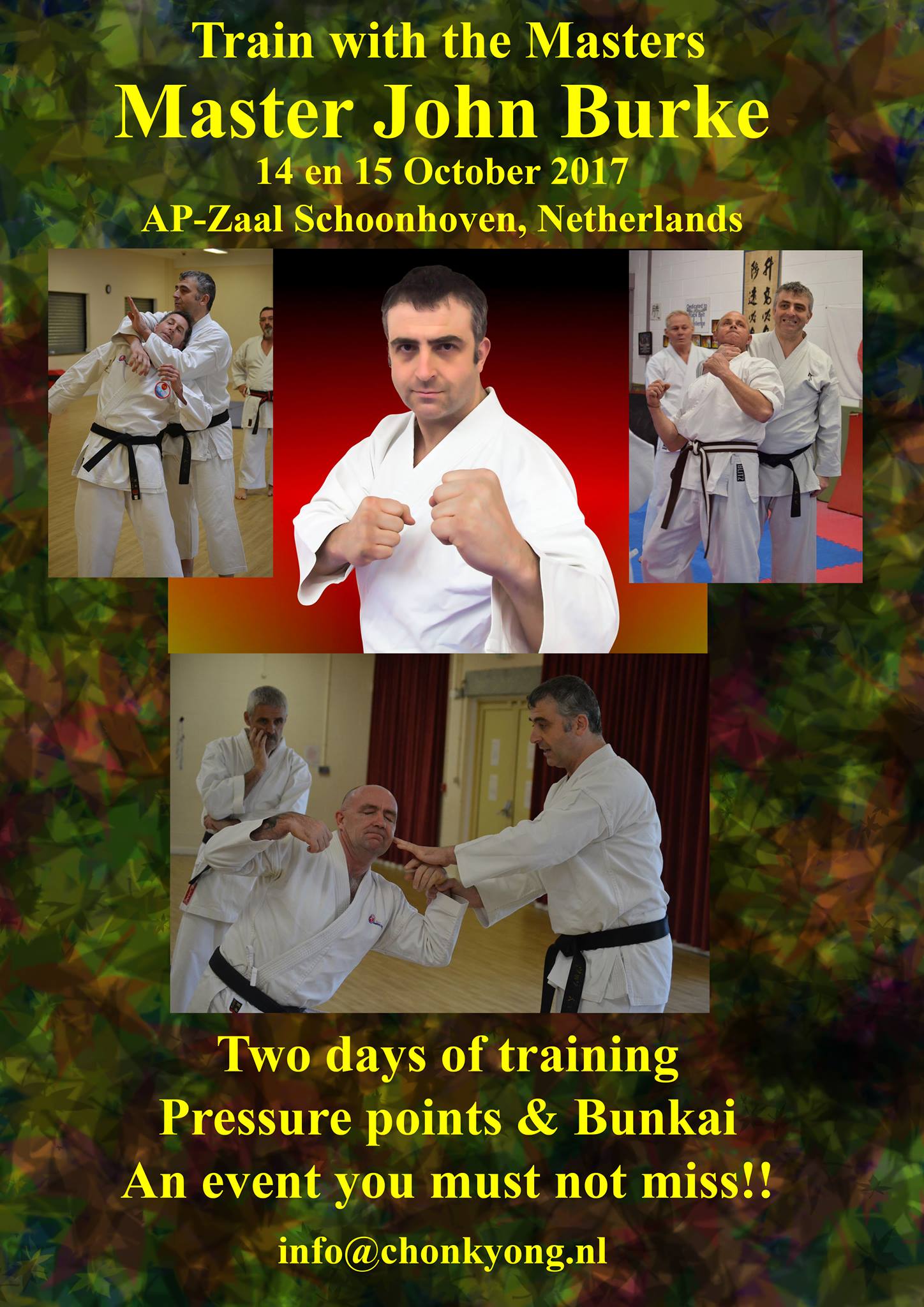 Friday 28th July - Sunday 30th July MHKA Summer Camp with Martyn Harris renshi, John Burke renshi, and Martyn Skipper sensei.
Saturday 14th and Sunday 15th October Bunkai Seminar in the Netherlands hosted by John Correlje sensei. info@chonkyong.nl for details.

Saturday 21st October Kaizen Martial Arts Expo, Nottingham. https://www.facebook.com/Kaizen-Martial-Arts-Expo-1882180385372384/ John Burke renshi will be teaching his bunkai workshops. Tickets are £25 per person (adults). Please call 01626 360999 if you'd like one.

Saturday 28th October & Sunday 29th October Bunkai Seminar in Shetland with John Burke renshi. South Lochside, Lerwick Please contact 01595 859326 to arrange attendance.
2018

Saturday 5th - Sunday 6th May 2018 UK Martial Arts Show, Doncaster Dome. John Burke renshi will be teaching his bunkai workshops.

Friday 1st - Sunday 3rd June 2018 South West Karate Experience. We return to the private beach at Perran Sands in Cornwall for more training by the sea. Caravan accomodation available. Please contact Kim@KarateAcademy.co.uk for details or call 01626 360999

Friday 6th - Sunday 8th July 2018. MHKA Sumer Camp, Brecon, Wales.

November 2018 Training in Okinawa + Funakoshi Heritage tour. Contact info@bunkai.co.uk if you'd like to come along.





More to be announced.






Here's a brief look at the Heian kata in a loose, playful, mode:

With more to come.